What are you doing at school, on vacation, or with camp friends? Are you in sports, band, or clubs? Send us your photo and info!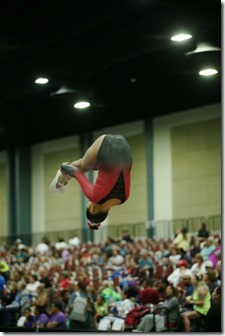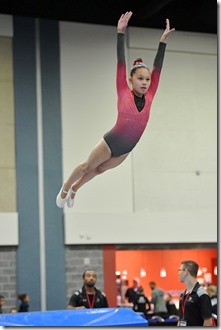 Emily Bolton, C3 1st Term, competed at Nationals at West palm Beach. She placed
top 6 nationally in 2 events.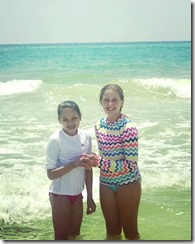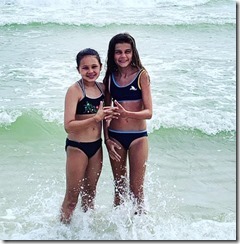 Emily ran into 2 camp friends at different beaches (Rosemary and Seaside). This shows how far and wide the Camp connection.

Cade Cunningham (1st Term) was asked to lead the Pledge of Allegiance, Scout Oath, and Scout Law at the Caddo Area Council Board Meeting in March.
He represented Troop 13 well.
These three bunk-mates all happened to wear their Camp Longhorn shirts to school today (Highland Park Elementary, Austin, TX)--totally unplanned!
Lauren Brewer, Marlowe Walsh, Whitney Stockton
(C3 Inks Lake - 1st Term)

Cade Cunningham at middle school swim meet getting ready for that Mile Swim in June. He swam 50 meter butterfly.
Taylor & Avery Taylor are members of the Tomball Youth Bowling League. They competed in the USA Bowling National Regional Tournament in the Under 12 age group on 2-24-2019.
They represented the South Central Region, and their team placed 2nd in the tournament! #attawaytobowl

Sophia Horseback riding in Totoral, Argentina

Palmer Jordan has learned computer skills while answering Merit Questions. Attawaytogo Palmer!!!! We are proud of you!!!! Keep up the good work!!!!

Grateful for holiday road trip meet-ups with our camp buddies. C3 4th Term Campers Lyndon Warren (Decatur, GA),
Charlotte and Finn Howell (Midland, TX), and future camper Adlai Chang (Decatur, GA) meet in Austin, Texas for some Amy's ice cream.
"Life is Uncertain. Eat Dessert First" (in this case, before the turkey!)
Future Camper Henry James Hopkins, age 5, is so excited for his brother, Hayes to get his new yearbook that Henry decided that he would clean the whole house before "that man" came knocking at their door. #attawaytomakethebedHenry!!!!

C3 campers Drake Milam and Colton Wilson got 2nd Place in the BYFL Super Bowl. CONGRATULATIONS!!!!



While at the Ranger Relays, Cade Cunningham (C3 1st term) found Adam Wegner (3rd term Indian Springs). Cade was cheering on his cousin in his Mile Swim shirt.
#attawaytogo



Hadleigh Novosad (6 term), Cayden Zboril (5th term), and Holdyn Novosad (6th term) getting ready for the Burleson County Fair Steer Show!
Cayden was Grand Champion and Holdyn was Reserve Champion.

Addison and Kate Jackson took CLH on a family vacation to Stonehenge. Addison also wore her CLH cap to the Queens throne room at Windsor Castle. Kate and brother, Tyler wore CLH caps at Donnington Castle in England! #attawaytovaca

Parker Johnson doing school work but thinking dreaming of CLH.

Reed Schneider (Gasper Goo, 6th term, C3) recently earned his black belt from Unified Tae Kwon Do. #attaway

Hudson Bennett (son of David and Stacy Bennett), Josh and Cameron Calhoun met up at a cross country meet. #attawaytorun

Attaway from Snowmass, CO!
Oliver and Gigi Allen

C3 Campers Hayden Taylor (2017 Catfish & 2018 Striper) and Avery Taylor (2017 Buttercup & 2018 Daisy) placed FIRST in Doubles Team competition at the Texas State USBC Bowling Tournament in Grand Prairie, TX in June 2018. Hayden Taylor also placed 10th overall in his Boys Division. Avery Taylor also placed 4th overall in her Girls Division.

Angel and Bella Livengood visited NYC and one of camo friends, Caroline Hopley, came up from Connecticut so they could have a Camp Reunion. #attaway

Owen Hebert with Luke and Jack Henry Carl at at baseball game.

At Old Faithful dreaming of Old Faceful!!!! Eil & Emerson Yorio (C3 5th Term)

Cade was happy to get his Early Bird!




Aidan and Kathryn got to use their canoeing skills that they learned at C3 on Lake Travis.

Ben Walter and Walker Cave (2nd Term Bass) took CLH with them on a fishing trip to Florida.

Victoria and Andrew Knebel…..getting their little future camper/brother ready for camp in 2026.

Aiden Holt and Larry Olivarez are cabin mates at C3. They got together after camp and talked about the blast they had at camp.

Here's a picture of Luca and Julia (C3 6th term) sporting their CLH shirts at Disney's Hollywood Studios in Orlando!
They LOVED the Rock 'n' Roller Coaster there!

Sophia Giardina, Sofia Preston, Ava Lahaye, and James Cundiff all 5th Term C3'ers enjoying a Pre-Camp Disney cruise in St. John!!






Congrats to Kinley Johnson, 2nd Term C3 !!!!!!

Sarah Zaltsman, 5th term C3, visited Universal Stuidos. She is all decked out in her CLH gear. #attawaytogo

Logan (C3) and his Austin Vipers 5th Grade basketball team won the Texas Gametime Basketball "Austin TX 100" tournament at the Westlake Athletic Community Center. #congratsvipers

Over Spring Break, Kenady & Kamryn Michaelis (C3 4th term) and Jack & Parker Wood (Inks 3rd term) met for some cousin fun at Port O'Connor.




Xander Oldham, (3rd term) was reading his Sports Illustrated Kids, The Big Book of Why and read this page. He asked his Mom,
"Is that the same Tex Robertson who started Camp Longhorn ????".
Xander and his Mom did more research and found out that it is our Tex Robertson. #socool



Luca and Julia (C3 6th term campers) are at Luca's boy scout pack spring campout, camping across the lake from you & are so excited! They CANNOT wait for this summer!
CLH: WE LOVE YOU!

Dax and Avery Warden (C3 5th term) live in Soldotna, Alaska. Last fall they spent the weekend at Denali National Park and Preserve.

The Strock family enjoyed a scuba trip over spring break. Will, Robert, and John are C3 campers. #attawaytodive

Brynlee Cody (C3 camper) is a budding artist. A piece of her artwork was chosen for displayed at the Burnet County Courthouse. This is an extreme honor for Brynlee. #attawaytobecreative

C3 campers Maggie, Sarah, Kylie, and Tatum are having some fun with each other at the JW Marriott Spring Break 2018.

Callen Smith (6th term C3), Fourth grader from Georgetown got to pick a famous Texas person and create project for a community wax museum presentation. He had to research his choice, do a poster board, write a short essay, and give the speech to the community. Callen picked TEX! #attawaytomakeusproud GREAT JOB!

Sam Koopman and several friends love adventure. They like to hike up Jupiter Peak and skiing down.

Blair Bowman, Julia Pendergast, and Savannah Simon are going to be 1st year C3 campers. The girls and their moms met for a play date to get to know each other. #attawaytomakenewfriends

Corbin Bostic (2nd Term) loves camp so much that he made his Valentine Box CLH themed. #attawaytogo!

ATTAWAYTOSHOW!!!!! to Joey Pavelka (C3 5th term camper)
v

CLASP Mom, Jenny Fouilloud-Buyat Hofmann (Inks Lake Alumni) and her son, Luca (C3 6th term camper) both won prizes at the Lake Travis Carnival. Twin sister, Julia cheered her family on.

David and C3 camper Ryan
Luca Fouilloud-Hofman and Julia Fouilloud-Hofman (C3 campers) send Happy New Year greetings from Enchanted Rock.
C3 campers Ansley Embrey, Bailey Swaney and Kate Townsend wish you a Happy New Year!!!!
COLLIN PATEK, C3 term 2, celebrated his 9th birthday (Sep. 12th) in Camp Longhorn style!
CALLEN SMITH (Catfish, Term 6) swam at The University of Texas this past weekend (oct. 21-22) and found this mural of Tex.
Some C3 and Inks campers had a mini-camp reunion a couple of weekends ago! PRESLEY BENNET (C3, 3rd Term), KYLI DAVIS (C3, 3rd Term), GRACYN BENNETT (Inks Lake, 2nd Term), and not pictured BRAEDEN HOWELL (C3, 3rd Term). Kyli Davis even made a Camp Longhorn themed cake for the get together!
Holdyn Novosad, Hadleigh Novosad and Cayden Zboril (C3- Term 6) getting ready to show their steers at the Burleson County Fair!
LUKE KISER (freshman running in varsity) came in 28th at the Regional Cross Country meet.
DREW JACKSON and COLTON KERR connect during the Tyler rose festival.
GRACE SADLER (4th grade) won first place at the Washington County Fair in Brenham for her artwork.

Cousins get together after camp to send "Attaways" your way!! All had a fun time at Camp Longhorn!
(L to R) Lucy Livingston – C3 1st Term, Bluebonnet Cabin, Lilly Hutchison – Springs 4th Term, Bronco Cabin,
Will Livingston – C3 4th Term, Gasper Goo Cabin, Trey Snavely – Springs 4th Term, Raccoon Cabin.


2nd Term camper, KYLIE CAMPBELL, showing her CLH spirit at her neighborhood block party!
SARAH GUILD (from Katy, Tx) and AVA WALKER (from Paia, Hawaii), both 1st Term C3 Sunflowers reunited as Sarah visited Hawaii!


Callen James Smith, C3 Term 6 (Catfish)
Callen wanted to get close to camp this weekend, so his parents took him out to Lake Buchanan to see the waterfalls.
Three of our C3 girls won the Little League championship in Softball inBurnet. They are all on the same team!
(Left to Right): Kenzye Raiford (6th Term), McKenzie Evans (3rd Term), Tatum Beierle (3rd Term)
Three generations of clh'ers celebrating 1st Term C3 Camper, Lila Grace Biffle's grandfather's 79th birthday. Jack Adleta, Ashley Adleta Biffle, Lila Grace Biffle.
Ryan Behrens received the Principals Award (7th grade burnet student) at Burnet middle school.
6th Term C3 campers, Reed and Claire Schneider earned 1st place trophies at an Austin Karate Tournament this past weekend.
Excited for summer swim team and, after that, CLH! In the cap is Mary Ligarde, C3 First Term, and the other little girl is Margaret Gilbreath, Inks Lake fourth term. They swim for the Westover Wild Orcas in Austin.
Darcy Gossett (Indian Springs, 1st term) and Kylie Cason (C3, 5th term) met up on the tennis court today in a tournament at the Corpus Christi Country Club
Third termer CADE CUNNINGHAM , shown here with singer and with his new BFF Neal McCoy. Neal was the entertainment at Cade's Moms Credit Union Annual Meeting last month and Cade got to hang out with him and his band.
Charlie Ruth Anderson is going to be a first time camper this summer at C3, 2nd Term. Her mom went to Inks from 76-78. They pulled mom's trunk (Shannel Woodard Anderson) from the attic from 41 years ago, refinished it and now it will be Charlie Ruth's footlocker this summer!
Carson Holmes just celebrated his 9th birthday on Monday and it included a little CLH spirit.
Ryann and Chase Ullman, 4th termers have been practicing with their light sticks for Campfire! Lights on for a snapshot by Mom!
Sarah and Kylie Cason meeting up for some shopping over Spring Break. (Last year Bluebonnets)
Campers from all 3 camps were inducted into the Junior National Honor Society at Burnet middle School.
Hayden Brown (Inks Lake), Hudson Bennett (Inks Lake), Ryan Shipley (C3), McKenzie Davis (Springs), Bailor Howell (C3), Kendall Bible (Springs), Kieran Mather (Springs), Hunter Luther (Springs)
4th Term C3 Camper, NOE HALL, stopped by camp ON March 1st for a visit! She was so excited to find her dad's name on the Inks Lake Campfire Lighter board from 1988!
Ashley Coleman, Manhattan Beach, CA, 3rd term came by C3 during her Spring Break!
DALEY CREWS competed in the city wide UIL One Act-Play Middle School competition and received an All-Star Cast Award. Out of 7 different middle schools and over 100 students competing she was one of the 8 winners of the All-Star Cast Award. Here is a picture with her and her cast mates. She was the only 6th grader. All the rest were 8th graders.
CONNOR BURROW and his Dad did a kayak trip after bass fishing all afternoon. Connor caught a 6 pound bass and followed it up with this big red.
Daisy Camper Mary Ligarde ran into her fellow Daisy, Caroline Dougherty, at the Trail of Lights in Austin.
Sisters Emily (IS) and Sarah (C3) Zaltsman went to Hawaii over the winter break and the girls proudly wore their CLH uniforms!
Diva Dawgs Awards.... McKenzie Evans with inspiration award and Tatum Beierle with Diva award.
CONNOR WEST asked David to talk about his career as a camp director at Hudson Bend Middle School.
C3 cabinmates 3rd term KYLI DAVIS and PRESLEY BENNETT.
C3 campers show support to one of their favorite counselors WEST FIGG. West is on the A&M mountain biking team. Supporting West are Brett Nelson, Cody Figg, Hudson Bennett (Inks Lake), WEST and Boys Camp Director David Bennett..
3rd term camper CADE CUNNINGHAM went on a duck hunt with his Uncle Jay. They bagged 8, 1 by Cade!
Cade Cunningham, first Deer for 2016. Spike killed 11-5-16 in Nashville, Ar.
Third term C3 camper McKENZIE EVANS from Burnet won Junior All Around for the junior meat goat show circuit show in San Angelo.
5th term camper ELLA TREVINO is ready for a night of trick or treating with her brother Gavin.
Westlake High School celebrates Homecoming in Austin. Camp Longhorn campers got together for a group shot! Attawaytogo!
Left to right: Carter Bost (1st term Inks Lake), Drew Willoughby (1st term Inks Lake), Haley Cole (1st term Indian Springs), Avery Fredrickson
(3rd term C3 on Inks Lake), Emily Marquis (1st term Indian Springs), Brennan Haralson (1st term Inks Lake), Riley Saikin (1st term Inks Lake),
Christan Haralson (1st term Inks Lake), Presley Bennet (3rd term C3 on Inks Lake), Hanna Norwood (1st term Inks Lake), Dylan Spencer (1st term Inks Lake), Avery Platt (1st term Indian Springs), Kay Lee Jenkins (3rd term Inks Lake), Alexa Levine (1st term Indian Springs), Jaclyn Cockrell (1st term Indian Springs)
CLH represented in the Oatmeal Festival "Run for Your Oats" 5k run. Mixture of C3, Springs and Inks.
Left to Right (top row): Dillon Crain (C3 counselor), Mary Patt Everest (Inks Mailroom Director), Hudson Bennett (Inks camper), Luke Kiser (C3 camper), Gracyn Bennett (Inks camper), Cade Rye (Inks camper).
Left to right (bottom row): David Bennett (C3 Director), Ryan Robertson (past Springs camper), and Zaida Freeman--not pictured (Springs camper).
Camper ELI YORIO in Rome!
C3's First Fourth of July Parade!!
Ellis (Wrangler-Chief, Inks 3rd) and Perrin Gentry (Wrangler, Inks 3rd) saying "so long-horn" to little brother Sutton Gentry (C3 4th) before he boards the plane from Knoxville, Tennessee to Dallas, to ride the bus to C3!
Cousins headed to camp meet up at Vacation Bible School in Austin. Left to Right: THOMPSON BENNETT – C3, FRANK HADLOCK – Inks Lake and SIMON WINDLER – C3.
EMILY HOLICK is ready and raring to go for 2nd term C3 at Inks Lake! She can't wait to try the trampolines, the blob, and meet new friends!
GREET & MEET at Baskin Robbins. 2nd term campers had an ice cream social before camp. L to R: LUCILE BELL, CATHRYN ROMERO,JOCELYN BEZNER, BAILEY SWANEY, ADDISON JACKSON AND ADYSON NELSON (Florida). These girls are fired up to get to C3!
First term camper JACK CARTER McDANIEL graduated the 5th grade in the top 10% in the State for the Math Masters Program.
Elizabeth Estes 1st term C3..getting ready!
Left: KYLIE Campbell coming to C3, 2nd Term. Right: KYLIE and her brother, CARSON, also coming to C3 2nd term
ADDISON HENSHAW started her summer catching 40 fish! She is ready for all the outdoor adventures she'll have at C3!
First term camper Quentin Nicholson visited C3 before camp
C3 camper ELONNA BLUNT is a 6th grader in Waimea, HI. She won an award for excellence in Spanish and was also awarded The Most Vocally Flexible Singer in her choral program. Congratulations Elonna!
C3 camper SLOAN STRONG from Houston placed 2nd in her school's SCIENCE FAIR this school year. Waytogo Sloan!
Elizabeth Estes, 1st Term C3, was named the Player of the Week by Westlake Soccer! Waytokick Elizabeth!
AIDAN and KATHRYN ROMERO and ABBIE STORMENT had fun in the snow in Angelfire, N.M
Fourth term C3 campers NADIA and OWEN MCCAULEY visited with johnny Rob at the Houston Carnival. Their mom Natalie Canino McCauley was a camper from 1988 to1994.
HAYDEN WILLIAMS is excited to get his acceptance to C3!
Cousins from the Vogt and Swaney families are all headed to C3!!
---
3rd term camper LUKE RENSPIE is hanging out with his buddies and future CLH campers: Seth Mason, LUKE, Dane Calvert and Andrew Shoberg.
---
First term C3 camper GARRETT FITCH competed in the Destination Imagination Regional Competition in March at Klein High School. He created the skit, set and played the President of the United States, along with his teammates. He competed for Brill Elem. School in Spring, TX. Attawaytogo Garrett!
---
C3 campers JM WHELAN and ZACH SUDDUTH went skiing in Breckenridge over spring break.
They are both looking forward to Camp Longhorn!
---
The Utkov sisters took a C3 outing during their spring break. Carter, on the right, will be a camper second term, and sister Campbell is a future camper.
---
Having FUN in New Orleans! C3 campers for the first summer are (right to left): James Cundiff, Sofia Preston, Sophia Giardina and Ava LaHaye, daughter of alum Mark LaHaye. Others shown are future C3 campers!
---
Showing their Longhorn spirit at the San Antonio carnival are C3 campers Tatum Tommack and Sarah Zaltsman, along with the Girls Camp Director Stacy Bennett.
---
At the New Day and New Beginning Horse Show at the Great Southwest Equestrian Center, camper Sarah Guild won eight ribbons over the weekend: three second place, four fourth place and one fifth place.
---
Second term camper Cade Cunningham is working hard on the merit questions posted in the BULLetin every month.
---
Reva Pemmaraju, fourth term, spent her 2015 Christmas holiday in India. She is so excited to join the Camp Longhorn family!
---
Sarah Zaltsman, C3 second term, and Emily Zaltsman, third term Indian Springs, showed camp spirit while visiting Pearl Harbor in Honolulu, Hawaii over the holidays. Here they are standing on the USS Arizona Memorial. The other picture is in front of the statue of King Kamehameha, which stands in front of the Hawaii State Supreme Court. Mom Karin also attended CLH (third term '85 and '86).
---
Clay Stuckey from Dallas appears as astronaut Neil Armstrong in his school's wax museum. Atawaytogo, Clay!
---
Camper Kaitlyn Claire Heath will be a mouse in the Nutcracker Ballet next month. Showing her support, fellow C3 camper Kylie Cason met up with Claire at a story time at a local Banes and Noble.
---