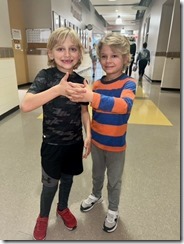 Summer 2023 Rattlesnakes Jimmy Malek (4th term)
and John Gaston (2nd term) recently discovered that they
attend the same elementary school. A big ATTWAYTOGO
on that discovery and can't wait to see you both at camp this
summer!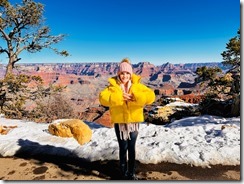 Samantha Verdoorn (3rd Term camper) showed her awesome
CLH spirit while on vacation at the Grand Canyon! Attawaytogo,
Samantha!!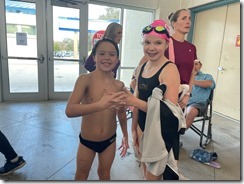 John Christensen (Inks Lake 4th term camper) and Leah Wantland
(Indian Springs 4th term camper) give a big Attawaytogo at an
away swim meet in San Antonio! Attawaytoswim and thank you
for sending!!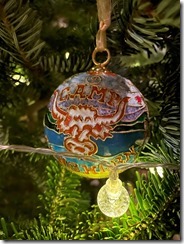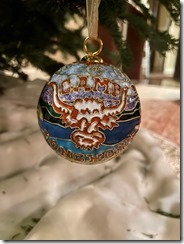 Heidi Sheikh, 1st term Springs camper, decorated her tree with a very
special ornament this year. Thanks so much for sending- what a fun
addition to your tree! Merry Christmas!!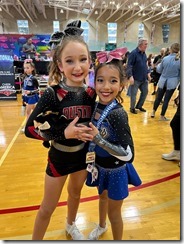 Indian Springs 2nd term bunkmates, Emma Thompson
and Ruhi Mireles, found each other at a recent cheer
competition in San Antonio! Attawaytocheer!! Can't
wait to see you both back at camp next summer!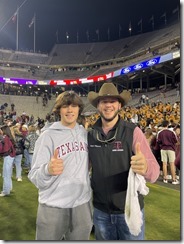 1st Term Springs Ranger, Jake Ford, ran into Springs
counselor, Greyson Philippovic, at an SEC football game.
What a fun CLH sighting! Thanks for sending!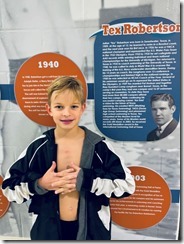 New camper, Adam Csizmadia (Springs 4th term), is excited for
his upcoming first summer at Camp Longhorn! In the meantime, he
is reading up on some camp history while at a UT swim meet.
Attawaytogo Adam, and can't wait to have you join us at camp
next summer!!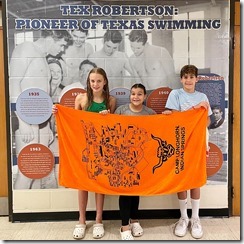 Anna Csizmadia (Springs 4th term) sporting her new CLH towel with
friends/campmates/teammates, Emily Bishop (Springs 2nd term) and
Jett Henson (Springs 4th term). Attawaytogo!!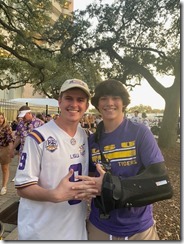 John 4 White (Indian Springs counselor) and Jake Ford (Springs
1st Term Ranger) recently ran into each other at an LSU/Ole
Miss football game. You never know who you might run into!
Thanks for sharing, and ATTAWAYTOGO!!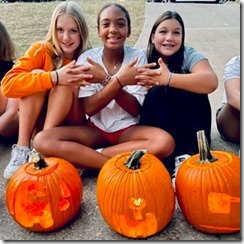 Happy Halloween from Anna Csizmadia (Springs 4th Term),
Amara Loyde and Emily Bishop (Springs 2nd Term)!! Love
the CLH spirit! Thanks for sharing!!

Emily Bishop (left, Indian Springs 2nd Term) and Anna
Csizmadia (right, Indian Springs 4th Term) were swimming
with their team, Rush, at the UT Swim Center in Austin, TX.
Attawaytoswim, girls!!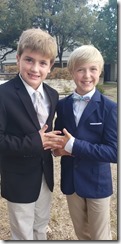 Foster Shipp and Barrett Woolley (both 3rd term Indian Springs campers)
recently saw each other and showed their Attawaytogo spirit! Thanks so
much for sharing! Attawaytocotillion, Foster and Barrett!!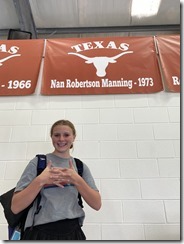 Brooklyn Bursiel (Indian Springs 2nd term camper) participated in a swim meet
in Burnet and saw Nan's banner from her time swimming at UT! How cool!!
Brooklyn's team placed 3rd in the medley and then she placed 4th in the
50 free with a time of 54 seconds and 1st place in the 100 free with a time
of 1.19.36. Brooklyn shared that she discovered her love for swimming
during her summers at camp! Love that! Thanks so much for sharing,
attawaytoswim, Brooklyn!!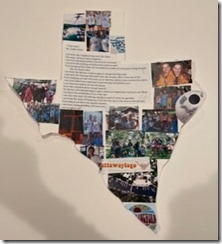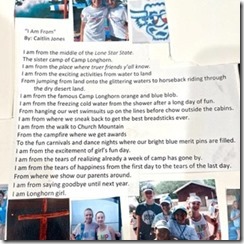 Caitlin Jones (Indian Springs 1st term camper) was tasked with writing
an "I am From" poem for her English class. This poem was supposed to be
about a special place and memories that have made the student who they
are. Caitlin hand drew the state of Texas, cut out pictures, and composed
a wonderful poem about her special camp memories. WOW!! Thanks
so much for sharing, Caitlin! Attawaytogo!!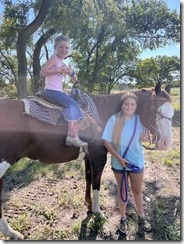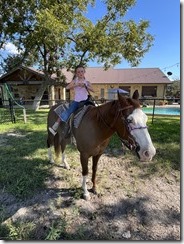 Happy Labor Day from Indian Springs gals and horse- Adley
Shelburn (4th term Springs camper), Starla (Hoss Corral Summer
Staff), and Easy (Indian Springs horse)! Comin' atcha from Shelburn
Valley! Attawaytoride, and can't wait to see y'all next summer!!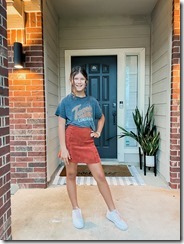 4th term camper, Leighton Wittek, shared a picture of her sporting
some University of Texas attire for college day at her elementary school.
Thanks for sharing, Leighton, and we can't wait to see you back at camp next
summer!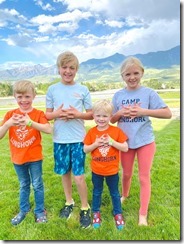 The Woolley cousins showed their CLH spirit while on vacation
over the summer! Barrett and Mallory Woolley both attend 3rd term,
and future Rattlesnakes, Knox and Miles Smith, can't wait for their turn
at camp! Thanks for sharing, and attawaytogo!
First term camper, Caroline Williams, had a few of her letters home
published in the New York Times this summer! WOW! Attawaytogo, Caroline!!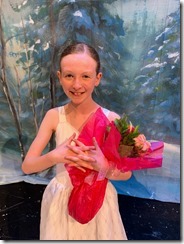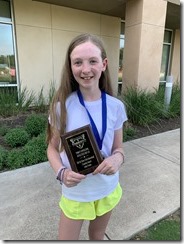 Big congrats to India Panter (1st term Springs) for winning a coach's award
for basketball as well as performing in her school's musical, Frozen Jr! Thanks
so much for sharing with us, and we sure did enjoy having you at camp 1st
term! Attawaytogo, India!!



Wow, James! What awesome words and drawings about camp! Sounds
like you are so excited to hopefully join big sister, Emily (1st term Springs),
next summer. Love that Camp Longhorn spirit!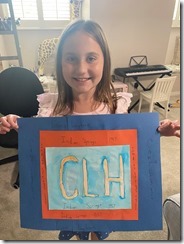 Emily Caughey, 1st term camper, is getting excited about coming to camp
in just a few days and showing some CLH love with this amazing picture!
Attawaytogo Emily!! Thanks so much for sharing it with us!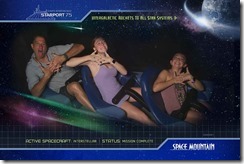 Bella Steinbrink (4th term counselor) and sister Malia (4th term camper)
showing their Camp Longhorn spirit while on roller coasters at Disney
World! Attawaytogo Steinbrinks!! Can't wait to see you both 4th
term!!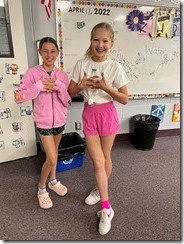 Addison Long, 6th term C3, and Caroline Fedrick, 1st term Springs,
made the fun discovery at school that they are both Longhorn girls!
Attawaytogo, and thanks so much for sharing! Can't wait to see y'all
SOON!!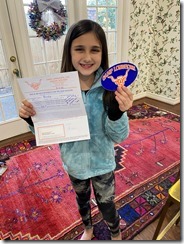 First time camper, Birdie Jackson (1st term), was so excited to receive
her acceptance letter in the mail! Looking forward to having you join
us this summer- Attawaytocometocamp!!

Attawaytogo to the Crusaders on getting 3rd place at Nationals!!
The team includes FIVE awesome campers/counselors: Sofia
Buss (Springs 1st term), Erin O'Malley (Springs 4th term), Georgia
Hernandez (C3 counselor), Susie Fuselier (C3 3rd term), and Evelyn
Fuselier (former C3 camper). Awesome job!!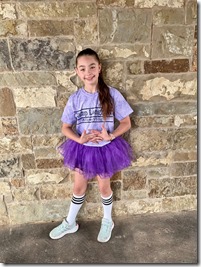 Malia Steinbrink, 4th termer, got to wear a tutu and tube socks to school to celebrate 2-22-22 and she wanted to represent CLH at the same time!
Attawaytogo!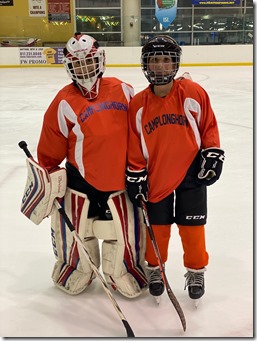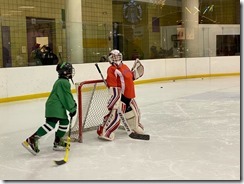 4th Termer, Tate and Reece Watson-Sanchez, were excited to hear about the lake freezing at Indian Springs last winter. They have
been working hard in case CLH gets an ice hockey team this summer for 4th term! Attawaytogo! Tate! Reece!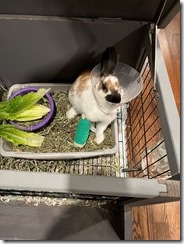 Caramel, one of our very own CLH bunnies, broke her leg,
but she is already all fixed up and as good as new! Thank you
Audrey Whitley, 3rd termer, for taking such good care of her!
Attawaytogo!!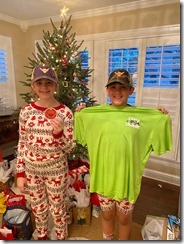 Ellie and Taylor Berra, 3rd term campers, on Christmas morning
with their new CLH swag! Attawaytogo!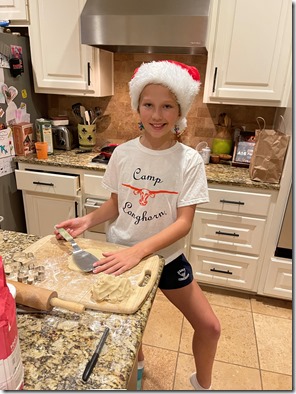 Coco Fedrick, 1st Termer, making some Christmas Cookies!
Yum!! Attawaytogo!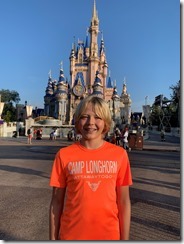 Beau Fedrick, 1st termer, showing his Camp Longhorn spirit at Disney World! Attawaytogo, Beau!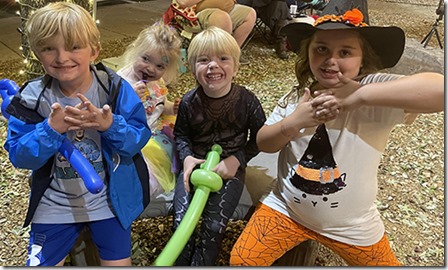 A picture from Halloween from two first time campers – summer 2022!
Jack Beacom, 2nd term, with younger sister and brother, Caroline and William;
along with Andi Hanes, 4th term.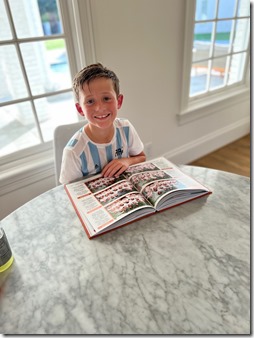 Billy Dinerstein, 3rd termer, was excited to receive his CLH Yearbook!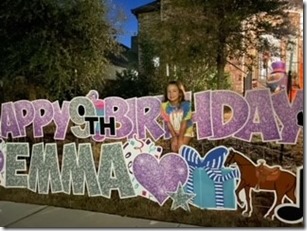 Emma Thompson, 2nd termer, wanted to wear her favorite camo
CLH tee for her birthday sign picture! Attawaytogo!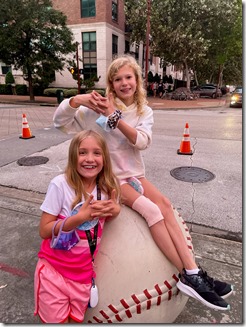 Mackenzie Bern and Victoria Skov, 4th termers, take a quick photo outside the Astros Game!
Attawaytogo!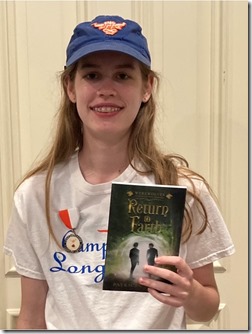 Patricia Jetton-Clowdus, 2nd termer, known as "Bucket" at camp, finished writing her book.
It has been published, and she just received her copyright certificate. She worked on her first
book during quiet time at camp several years ago. Attaway! Bucket!!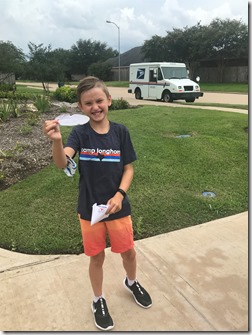 Weston Lipperdt, 3rd Termer, was very excited to receive his Early Bird in the mail!
Attaway!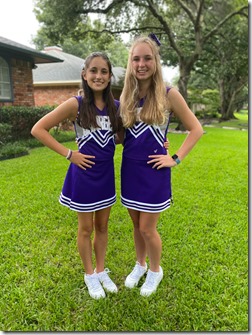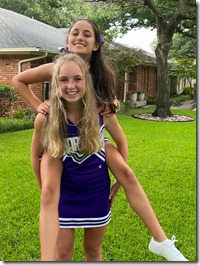 4th termers, Quinn Whitaker and Ella Dudlo, starting 8th grade as Charger Cheerleaders!
Attawaytogo!!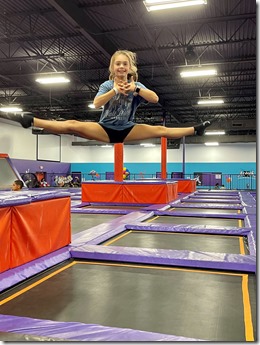 Malia Steinbrink, 4th termer, celebrated her birthday at Altitude in Austin.
Attawaytogo! Happy Birthday!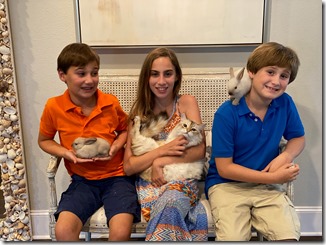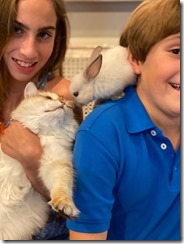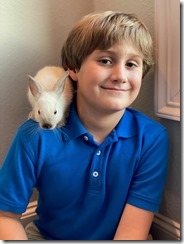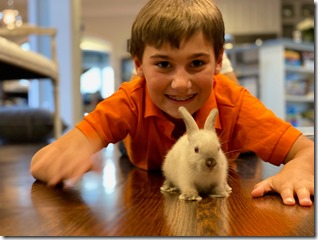 Camp Longhorn bunnies are settling in at home with Tate, Chile and Reece (4th termers).
The white bunny prefers to sit on everyone's shoulder…even if the cat isn't around!
Attawaytogo!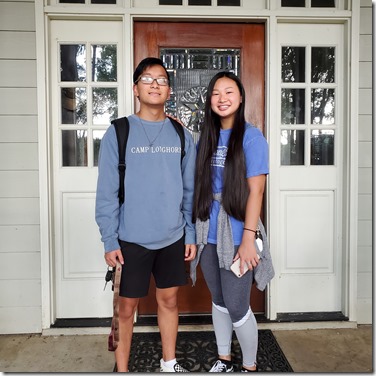 1st Termers, Andrew and Katherine Jenkins, headed to high school their first day in CLH gear!
ATTAWAYTOGO!!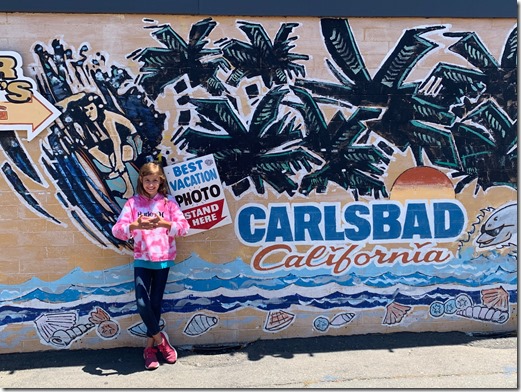 Lainey Stephenson, 1st termer, packed her Camp Longhorn spirit for her vacation to Carlsbad, CA!!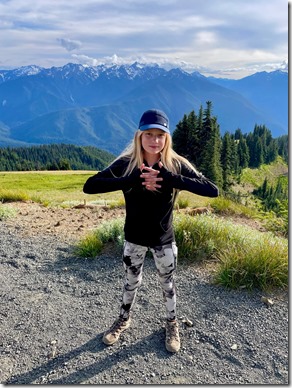 Anna Csizmadia, 4th term camper, is counting down the days until camp.
She is at the Olympic National Park in the state of Washington. Attaway, Anna!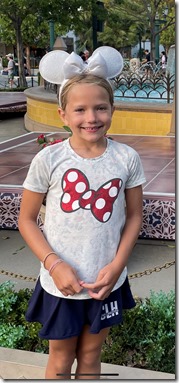 Future Camper, Nicole Fedrick, shows a bit of Camp Longhorn fashion
while enjoying Disneyland. Attawaytogo, Nicole!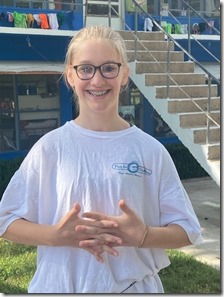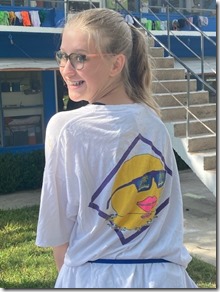 Clara Tibbetts, 3rd Termer, shows off her Dad's Fun N Sun shirt from 1987.
Attawaytogo, Clara!!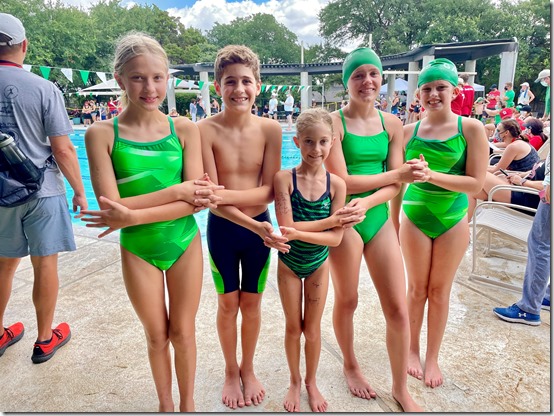 4th term campers and summer league swim team teammates can hardly wait to go to CLH at the end of the summer.
In the meantime, they talk about camp at their swim meets.
Left to right: Anna Csizmadia (Indian Springs), Jett Henson (Indian Springs), Sloan Arcement (Inks Lake),
Sydney Arcement (Inks Lake), Erin Wiesman (Indian Springs)

Caroline Fedrick (1st Termer) received her Early Bird in the mail for next summer!
So excited about returning to camp, that she put on her camp shirt. Attawaytogo!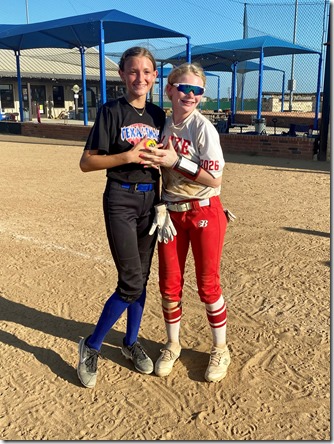 Kysen Toney (on left) and Eeva Chick (4th term cabinmates) played softball against each other at the
12U South Texas NCS State Summer Championship this past weekend. Kysen's team,
Texas Smash, won the tournament.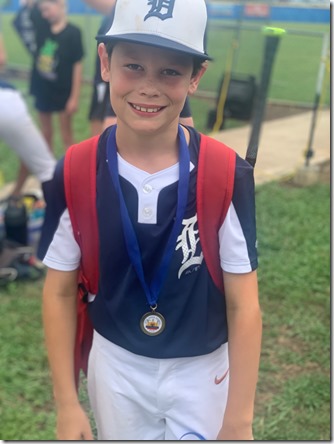 James Boller (1st termer) wearing his City Championship medal that
he received before coming to Camp. Congratulations! Attawaytogo!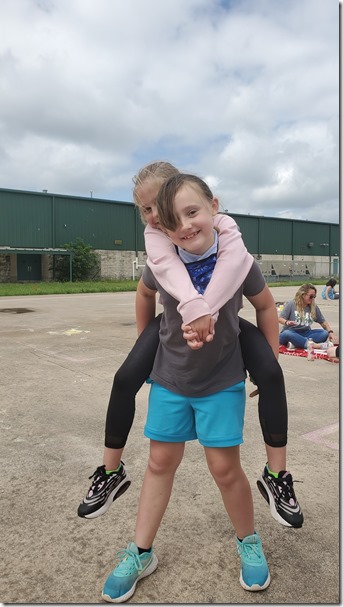 Layla Winkler (1st term) and Landrey Harrison (4th term) in the same 3rd grade class…
last day of school!!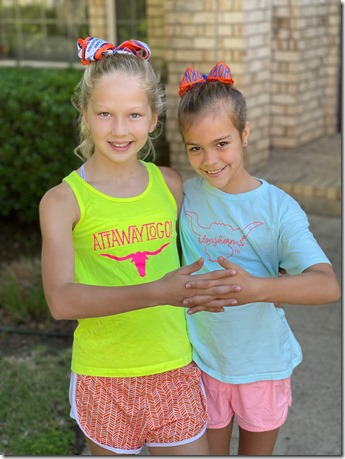 Coco Fedrick (1st Term Indian Springs) and Maddie McCown (5th Term C3) both from Westlake Austin, getting pumped
for camp this upcoming summer!! Attawaytogo!!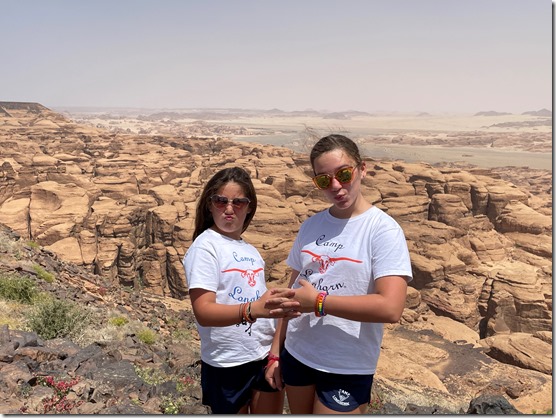 Zell and Annette Hollrah, 2nd termers, are sending an "Attawaytogo" while hiking in Al Ula in
northern Saudi Arabia!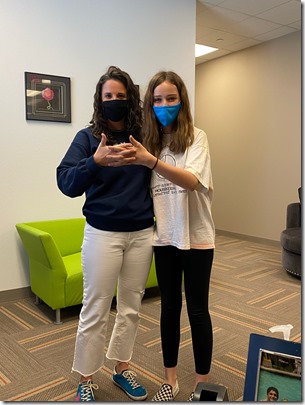 Lindsey Duncan Pike (on left) attended 3rd term for 12 years. Lindsey is a middle school counselor in Ft. Worth.
One of her students is a current camper at Inks Lake, Evelyn Lydick. They finally took a picture together and
wanted to share. Attawaytogo!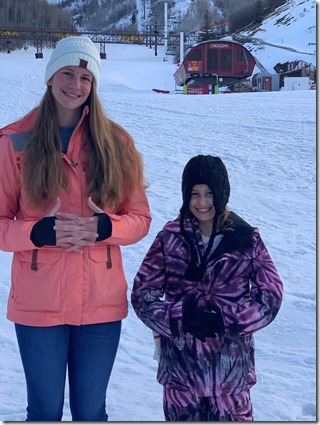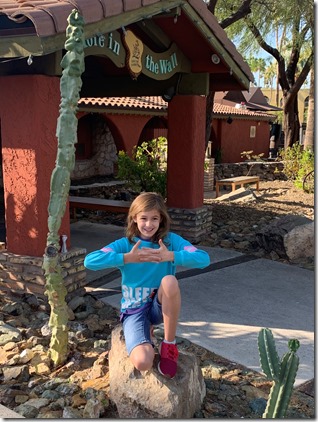 Piper and Lainey Stephenson enjoying the snow at Park City, Utah….and Lainey in Phoenix, Arizona! Attawaytogo!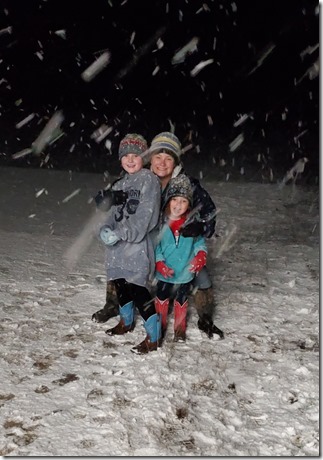 1st termer, Layla Winkler, enjoyed the snow with her mom, Krystal and younger sister, Emmy!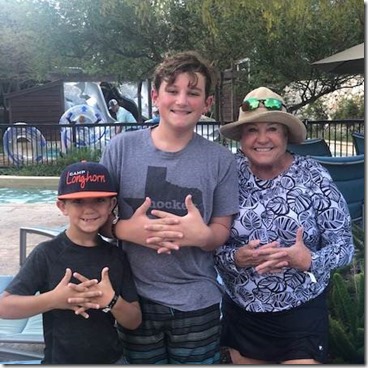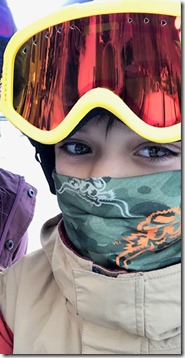 1st Termers, Hudson and Hayden Hass happened to meet Nan at the JW Marriott in San Antonio.
Also, Hudson was rocking the CLH Buff in Vail over the winter break! Attawaytogo, guys!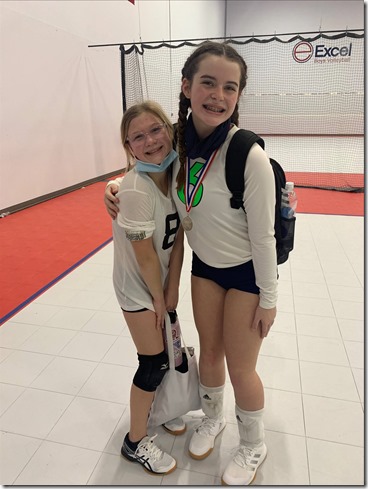 1st Termers, Kinley Owens and Lily Fryar, met up by chance at a Random Club
Volleyball Championship game. Lily had driven 4.5 hours south to the DFW Invitational and
Kinley had driven 4.5 hours east. What a surprise when they saw each other on
opposites sides of the court. You just never know where you will see your
camp friends/cabin mates.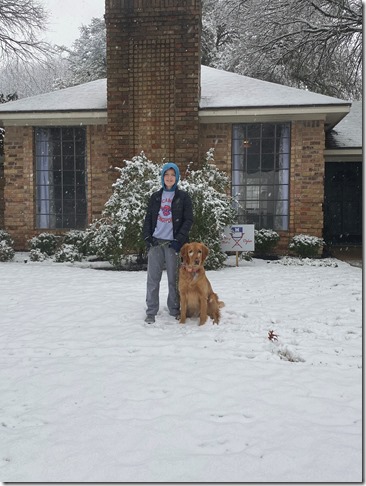 3rd termer, Stratton McEachern, enjoying a bit of the snowfall recently.
He layered up with a Camp shirt! Attawaytogo!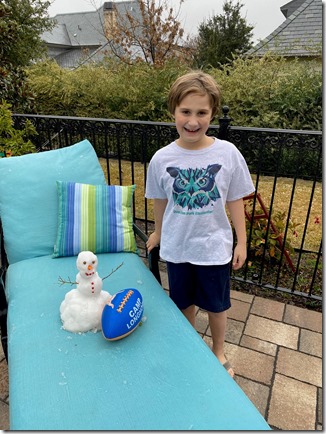 Reece Watson-Sanchez made a snowman who likes to play football!
Attawaytogo!!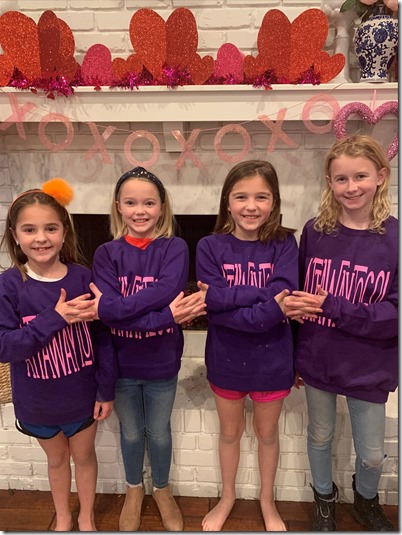 1st Term Camp friends enjoying a visit! (L to R): Kate Kinard, Lainey Escott, Kiley Kinard, Mallory McDaniel

1st Termers; Hudson Carroll, Jack Carroll, Beau Fedrick, Caroline Fedrick had a chance to visit
each other over the holidays. Took a quick photo with their Camp shirts. Attawaytogo!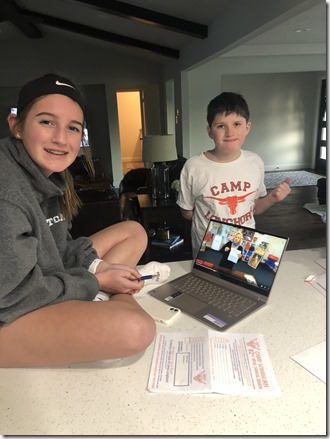 Hannah Yeager (3rd termer) and Hudson Yeager (2nd termer) are enjoying the virtual carnival!
Attawaytogo!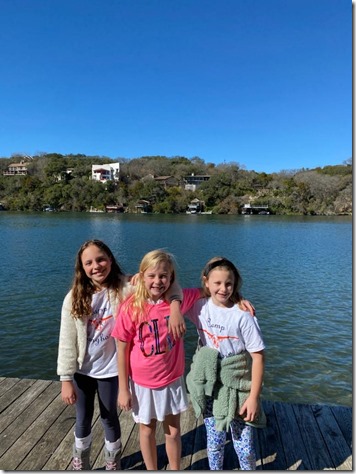 Longhorn campers and friends got together over the December
break….Sandy Duffy (Indian Springs, 4th term), Holland Butler (C3, 5th term)
and Hudson Suffel (C3, 6th term). Attawaytogo!