What are you doing at school? Are you in sports, band, or clubs? Earn Merits by sending in your news!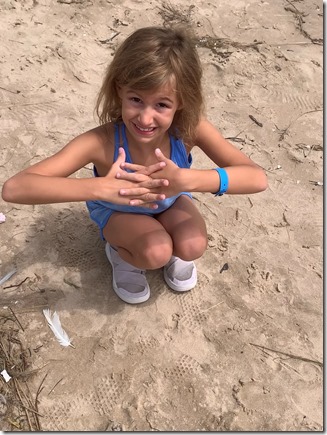 Lainey Stephenson, 1st termer, spotted an early bird feather in "the wild" while walking along
the shores of Lake Michigan in Sheboygan, Wisconsin. Attawaytogo, Lainey!!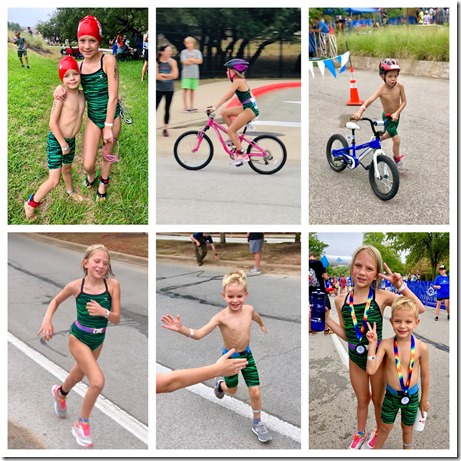 Anna Csizmadia, Indian Springs, 4th term camper, and her little brother (future camper), Adam, competed in the Colin's Hope kids triathlon in late August to raise awareness to water safety. Anna ran into her CLH cabin mate, Abby, who was also in the race.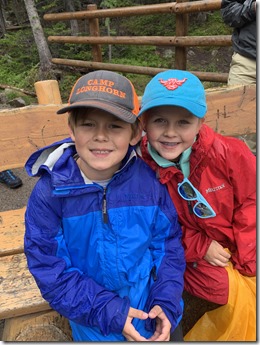 William and Catherine Hanna, 1st termers, visited Lake Louise this summer after attending camp.
Sending a quick photo with their Camp Longhorn caps! Attawaytogo!

Ava Myers, 2nd term, shared a few pictures from her horse competitions this summer after camp!
Attawaytogo, Ava!!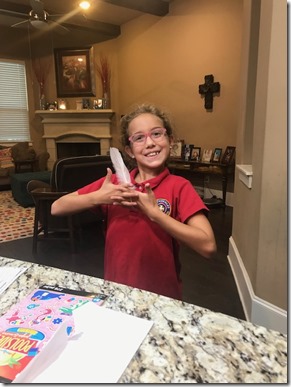 Landry Abarca was super excited to get her Early Bird feather in the mail. She loved her first year at Camp Longhorn and can't wait to go back next summer!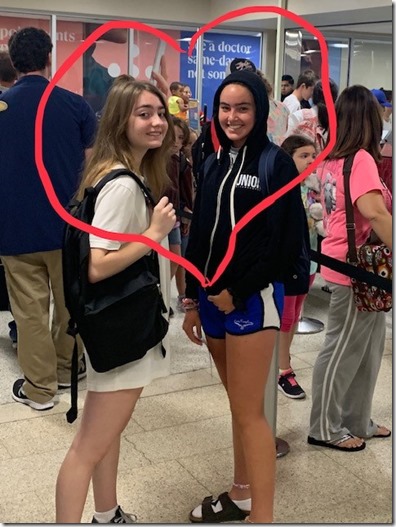 4th termers, Sarah and Ella Stephens are boarding the plane headed to Camp!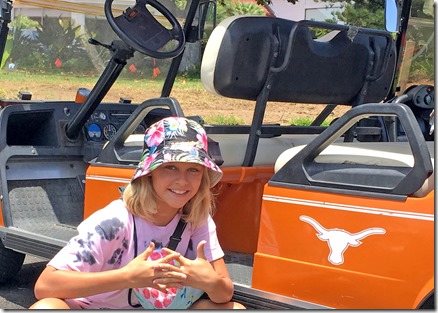 Marlo Anderson is looking forward to fourth term and getting all of her theme outfits ready to roll.

We were in San Diego at the Coronado Hotel last week and saw this photo op. Attawaytogo!!
Teresa Pinkston, 4th termer, received her black belt this summer. Attawaytogo, Teresa!!

3rd Term Maverick cabinmates from last summer reunited at the Lonestar Classic Volleyball Tournament in Dallas.
Attawaytogo Shea, Anna and Emily.


These campers and Art teacher are ready for Summer!
(L to R): Taylor Sharp (1st term, Inks Lake), Haley Kruger (3rd Term, Indian Springs),
Tori Atkins (1st Term, Inks Lake), Adrien (Ryder) Whatley, Alumnae, Cally Sharp (1st Term, Inks Lake)





Longhorn campers swimming with Gators, our neighborhood summer league swim team.
They love the Gators but they can not wait for being at Camp Longhorn this summer!
Chomp-chomp, Gators! (From left to right) Owen Ellington (Inks Lake,4th Term) Jett Henson (Indian Springs,4th Term)
Elle Ehlert (Inks Lake,4th Term)Anna Csizmadia (Indian Springs, 4th Term) Emily Bishop (Indian Springs, 2nd Term)
Eli Ehlert (Inks Lake, 4th Term ) and Harris Tarun (Inks Lake,4th Term ).





Caden Grethel (left) and Bennett Wilkin (right), 2nd term campers, saw each other when
Austin Youth Lacrosse played Westlake Lacrosse team last week. The boys were excited
to catch up after the game and can't wait to see each other again at camp in June!




Anna Cisizmadia, 4th termer, performed in the Csardas Hungarian Dancers sold out "Kikelet" show at the
Dougherty Arts Center in Austin this past weekend in March. She performed in two dances with her youth
group – one dance with a bottle on their heads! Anna's soccer team, the Headless Chickens, won the
i9 Winter Season Championship! Attawaytogo, Anna!





Peaches! Peaches! Peaches! Lots of pink blooms means
lots of peaches to pick! Photo taken March 12th.


Emily Bishop seasoned Camp Longhorn girl 2nd termer, has told
so many fun stories about CLH to her longtime friend, Anna Csizmadia. Anna
couldn't wait to apply and was over the moon when she found out she gets
to go to camp. Pictured above, Anna (left) and Emily (right) are at a Valentine's Day
swim meet.


As Secretary of Student Council, Eli Perry (2nd termer) served as a tour guide for the
Kindergarten Roundup which gives incoming kindergarteners a chance to learn about
school for next year. Attawaytogo! Eli!

1st termers, Hannah Jenkins, Sarah Rogers, and Abbey Swartzwelder took time to pose
an "Attawaytogo" at the Junior Symphony Ball in Dallas!

Madeleine Keene, 2nd termer, sends a picture from Teotihuacan. Her family visited
Mexico over the winter break. In the background, you can see the pyramid of the moon.
Attawaytogo, Madeleine!

It is the time of year that the lakes at Springs are lowered for maintenance and clean up.
For those campers, who are curious about the underwater house. The photo above gives
you a new view of what you are swimming down to during the summer. The photo below
gives you a look at the lower lake with all the docks exposed. Have no worries, the lakes
will be full by the time camp begins in June and ready for blobbing, swimming, canoeing,
diving, and trolleying!

A beautiful sunrise one morning this past week at Springs!


And pretty sunsets, too! Notice that the sun has set in a different location during the winter months here at Springs.
It does not set behind the cross on Church Mountain as during the summer months.

3rd Term, Sumba campers, had a get-together over the Christmas break! All but three of the cabin mates attended.
They had lots of fun visiting and even had a painting event to do!

---