What are you doing at school? Are you in sports, band, or clubs? Send Camp your news!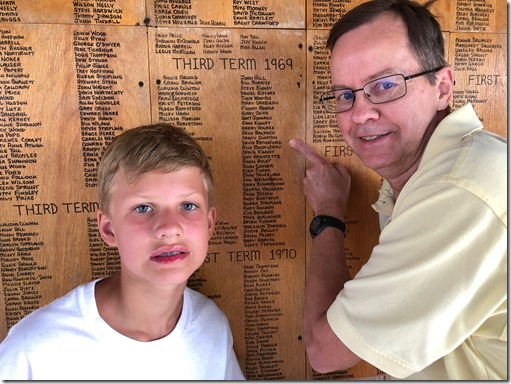 John Ratchford, (4th term) helped his Dad (David) find dads name on the Campfire Lighter Plaque.
3 Generations Strong!!! #attawaytocometocamp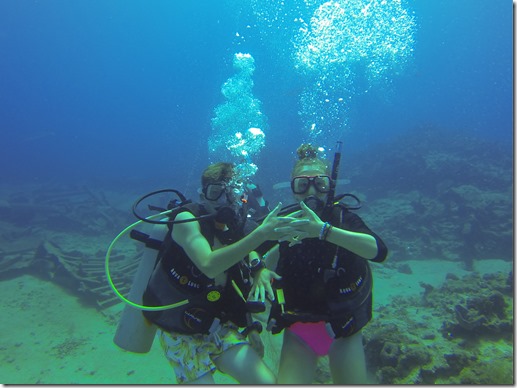 Payton & Heath Bryant (4th term Inks) showing some CLH spirit (50 ft. underwater) while getting PADI Scuba Certified this summer in the Cayman Islands!

Longhorn Rangers to the Rescue!!!! The 1st Term Rangers stopped to give a helping hand to Mary Lou Pearson who was having car problems outside of Santa Fe, NM.
It turns out that Ms. Pearson's children are alum of CLH. #attawaytohelpothers

Henry nailed his school project, paper and presentation over Camp Longhorn. ATTAWAYTOGO HENRY!!!!!!



These campers and Art teacher are ready for Summer!
Left to Right:Taylor Sharp (1st Inks), Haley Kruger (3rd Indian Springs), Tori Atkins (1st Inks), Adrien (Ryder) Whatley alumnae, Cally Sharp (1st Inks)

Some 3rd Termers got together for a swim party in Austin. Left to Right….Luke Olson, Robert Burns, Hudson Brown, Owen Williamson, Ryan Nix,
Davis Zachary, and John Williamson. (Not pictured but at the party- Hudson Nelms.)

4th Term Inks- The wand chose Carolyn Pan at the Harry Potter World Universal Studios Orlando.
Louise McNutt's dog, Deacon, LOVES CAMP LONGHORN!!
Price and Britton Dickerson, 2nd Term, represented Camp Longhorn this summer in a big way on the Disney World Splash Mountain ride!

Layne Walker (1st term) attends William B. Travis Vanguard (a Dallas ISD magnet school).
She loved sharing all the info she learned (and a lot she already knew) with other students and parents about the great place, CLH!

Hayden Brown (4th Term Inks) got to meet The University of Texas Swim Coach Eddie Reese.
Coach Reese has won 14 National Championships. Attawaytogo Hayden!!!!!

2nd term friends got together for a big weekend in Fort Worth. Left to right...
Ethan Bezner (San Antonio), John Pritchett (Fort Worth), Benton Lynch (Fort Worth),
William Pitzer (Dallas), Vee Johnson (Fort Worth) #attawaytobeafriend !!!!

Merry Christmas from Avery and Preston Jaggers. Inks 1st Term. Lone Tree, CO.
Preston received his 1st Camp Longhorn hat for his 1st time at camp in June 2019. He's so excited!

Jorge is putting the finishing touches on the new Bluebird steps!!

Maggie and Abbie Pickens visited the State Fair. Attwayto Wear Your Camp Shirt!
Ainsley and Reese were proudly sporting their CLH shirts while on a Thanksgiving Mission Trip in Neply, .
Awesome job girls!!

Alum Heath McBride and daughter, Riley brought a gift to the Burnet carnival for the camp road!!! #Thankyousomuch!

1st Term Inks Lake campers Caroline Henry (left) from Boise, ID and Brooke McAughan from Houston, TX met up on a Disney cruise to Alaska in August.
How cool (and COLD!) is that???? Attawaytogo to Alaska!

Counselor Jose and Camper Jake Portela in Red Square, Moscow Russia sending some CLH Love!

Jake and Jose watching the Russian Regata.


Emily Schaefer, 3rd Term Duck, competed in the US Masters Open Taekwondo Tournament held August 4 in Galveston. She earned gold in Form, bronze in Board Breaking, and gold in Sparring, making Emily the Grand Champion in her division.
He will be deeply missed. The 2018 3rd Term Longhorn Rangers built a Memorial for Mr. Meyer's in the mountains of Colorado. We all know that he is telling jokes and giving the 3rd Term Rangers a big "
ATTAWAYTOGO!!!! I LIKE IT!"
#attawayrangers

Matthew, Caroline and Ben are ready for 3rd term. #attaway



This is SO exciting! 9 Cousins got on the bus this morning to come to camp. (David Anderson-8;Patrick Stewart-8; Hallie Stewart-9;
Peyton Stewart-10; Thomas Frank-11; Matthew Trail-12;James Frank-13;Robert Trail-14;Davis Frank-15)
#ATTAWAYTOCOMETOCAMP



In a ceremony that began by Tex Robertson many years ago, a white dove (really a pigeon, but I'm not telling) is released from Church Mt. to honor the veterans who have passed over the years.
This year, 5 doves were released to honor these members of the "Greatest Generation" and vets of WWII: Tex Robertson, Navy: Bob Tarlton, Army: Zark Withers, Army; Bob Hudson, Army and Bill Johnson, Marine Corps.
Heroes To All,
Attawaytogo

Penelope Peck, 4th Term Inks, won the North Texas Kids Triathlon and qualifies for Nationals. Pictured with Penelope is 4 times Olympian Hunter Kemper. #attawayweareproudofyou



We are so proud of Hayden Brown (4th Term) of Burnet. He and his Medley Relay team won first. He also had a PB in the 50 free. #attawaytoswim

Some Dallas Hummers (3rd term) welcome Bren Hrobsky to the group at a recent get-together! These Hummers are looking forward to July!
Pictured…..Madison Ferrell, Bonnie Engstrom, Charlotte Lewis, Greer Crow, Mary Tutt O'Grady, Lilly Schendle, Georgia Waggoner, Francie Conklin, Bren Hrobsky #attawaytobeagoodfriend

Inks Lake 3rd term Hummingbirds are softball teammates and looking forward to their 3rd summer during 3rd term. #attawaytoplayball

Avery Jaggers, 1st term Inks, spent her Spring Break at Universal in Orlando. #attawaytovaca

George Lewis (Inks 3rd term) recently remodeled his bedroom. We love George's decorating skills. #attawaytogo
4th Term Cabin Mates Jane Butler, Emily Lindsay, and Jackie Strain ran into each other at a basketball tournament in Georgetown, TX. Emily and Jackie's team took the bronze and Jane's team came in with the silver. #attawaytoplayball
Pictured below are William Pitzer (Dallas), Ethan Bezner (San Antonio), John Pritchett (Fort Worth), and Benton Lynch (Fort Worth).
All 2nd term buddies who surprised Ethan in San Antonio for his recent bar mitzvah in December.
Camp friends are the best friends and what a great surprise!
Alum Lindsey Miller, gave a special Christmas gift to her nephew this year. #attawaytogofuturecamper
John Field Scovell (Inks 3rd Term, 3rd grade) from Lubbock recently performed as one of the "Dwarves" in Lubbock High School's production of, "The Lion, the Witch and the Wardrobe". #attawaytoperform

Lucy Gilbreath (4th term Inks) insisted on getting a pic at this spot after her first swim meet at UT :-)
3rd Term cabin mates Paxton Smith and my Parker Wood all smiles posing for a picture after they traded some paint in a football game against each other
On the Left is JIMMY OSBORN (1st term Springs), and on the right is WHIT TEEPLE (2nd Inks). Whit wears his camp shirt under his football pads every game!
CHASE MAY created his own CLH hat for Red Ribbon week, Put a Cap on Drugs Day. Blue crazy hair visor with Attawaytogo head band!
2nd term camper PRICE DICKERSON wore his lucky Camp Longhorn fishing shirt to catch this nice redfish in Florida .
2nd term camper HUDSON BENNETT wins his District Region 13 4A Cross Country Meet! Hudson is surrounded by Family after his win at the District Cross Country Meet for 7th grade boys held in Marble Falls.
Left to Right: "Mom" Stacy Bennett, "Dad" David Bennett, "sister" GRACYN BENNETT (camper), "Grandmother" Donna Robertson, Hudson, "Grandpa" John Robertson and "Grandmother" Jane Bennett.
ASAEL DICKSON sold lemonade in the days after the hurricane, raised nearly $800 and donated to a relief fund. Attawaytogo !!!!
ISABEL LUNSFORD's (from Burnet) cross country team won district championship.Isabel got 7th place !!
Some ATTAWAYTOGO at Cistercian homecoming from campers KATHERINE HEBERT – Indian springs and REBECCA BUELL – Inks.!
Some longhorn girls eating sushi!
Maribelle Gordon (1st term Indian Springs),Rylan Whitcomb (2nd term Indian Springs), Daryn Mehling (2nd term Indian Springs), Ryan Pipkin (1st Term Inks),
Suzannah Gilmartin (3rd term Indian Springs), Skyler Swanson (3rd term inks), Lindsey Price (3rd term inks), Alice Hogan (3rd term Inks),
Gabriella Fuller (3rd term Inks), Sarah Swanson (3rd term inks)
AVERY JAGGERS (1st term Inks Lake) went to Disney World last week with her family.
2nd term campers HAZEL HARP and VIVI HARP were delighted to find a Pickleball court around the corner from their hotel while vacationing in Vail, CO! Vivi won the Pickleball Activity Award her Wren year, and was excited to know she can play Pickleball at home in Colorado.
The Sypult's had a fun pool party with the Ledbetter's at their house in San Francisco watching the Oklahoma game.
L to R Third Termers: RHETT SYPULT, CHARLIE LEDBETTER, COLE SYPULT, AMALIYA SYPULT and ADDIE LEDBETTER
Third term campers ELLA and EVIE GRAHAM went on a safari after camp to the Serengeti National Park, Tanzania with their grandmother.
4th term camper, CAITLYN TATE won a bronze Medal while swimming at the National State Games in Grand Rapids Michigan
ELLERY and VAUGHAN MCKNIGHT are missing camp, but enjoying the boat in Croatia!
TAYLOR GOERTZ, (Bastrop) and LIBBY LESTER (Southlake) met up to take a picture at TASC Student Council Summer Camp at Southwestern University this week
Second term MILAM OLSON's first diving class at SMU. He loved it! He caught the diving bug at CLH. Attawaytodive!
CHARLOTTE and JULIA POUNDS at Fenway Park after camp!

First term camper REN FERGUSON – Cabin Foxes welcomes his sibling to V-Day. MAGEE and HUNT can't wait for 4th Term when they will be campers!
ANNA CAROLINE and CARLOTTA both organized and hosted a dodgeball tournament raising funds for ALS (Lou Gehrig Disease) May 13 with over 250 students from schools around Fort Worth. They raised over $30,000 for the ALS Association in honor of their Aunt Jennifer Corbett.
We are so proud of both young ladies. They created a website, promoted the event socially, obtained sponsors, secured a location, insurance, volunteers and so much more to make this event a success
This past weekend (May 20-21), PRICE DICKERSON won The Club's 2017 Spring Junior State tennis tournament in Mississippi. (Price wore his lucky ATTAWAYTOGO hat in the final match.) BROITTON DICKERSON was a finalist in the same tennis tournament. ATTAWAYTOGO!
Third term campers (L-R) WILL HOLLEMAN, CHARLIE HOLLEMAN, and CLARA HOLLEMAN recently took time out of their surf adventure in Western Africa to show some CLH pride…Attawaytogo!
The McKnights, 2nd term campers (Vaughn, Latham, Ellery and Dad Allen) are excited to get back to the place among the hills and dales, even when we're in Austria...
KATHLEEN ROBERTS (4th Term Inks), FRANCES COLLINS (2nd Term Indian Springs) and SARAH ROBERTS (4th Term Inks) say "Attaway" during their Spring Break ski trip to Montana!

Price Dickerson and Britton Dickerson, Second Term campers, recently represented Camp Longhorn well at Deer Valley, Utah in March skiing the black diamond "White Owl" run, site of the 2002 Olympic Aerial Events.
Pictured left to right, Front: Riley Corbett (Springs ), Olivia Corbett (Springs ), Charlotte Patty (Inks Lake),
Luke Patty (Springs). Back Row: Jake Hegi (Inks Lake ), Audrey Patty (Springs ), Will Hegi ( Springs )
The Pounds family met up with Rachel Lee Nuemann's family in Steamboat Springs. Left to Right: Riley Neuman, Charlotte Pounds, Hallie Neuman and Julia Pounds.
Bill, Carol and Fran Robertson meet up with these current and former 3rd term campers in Lake Tahoe. Rhett Jenkins, Polly Jenkins, Kay Lee Jenkins, Layne Jenkins, Jeffrey Jenkins, and Meredith Bagan.
Future Apache/Navajo's had a pre-camp meeting at Bill's Restaurant in Burnet over Spring Break! They will all be attending 2nd Term together for the first time this year.
Left to Right: Hays Bennett – son of Stacy and David , Preston Fish - son of Alumns Heather and Jeff and Thomas Deen – son of Alumn Megan Wall.
Campers from all 3 camps were inducted into the Junior National Honor Society At Burnet Middle School.
Hayden Brown (Inks Lake), Hudson Bennett (Inks Lake), Ryan Shipley (C3), McKenzie Davis (Springs), Bailor Howell (C3), Kendall Bible (Springs), Kieran Mather (Springs), Hunter Luther (Springs)
Third term campers Bella Braga and Grace Pelletier from Coronado California won the Soccer State Cup. This included all teams South of Santa Barbara! Attawaytogo!!!
ALEX BROWN – 1st term and ERIKA MARTINEZ – 4th term met up for a day of skiing in keystone, CO!
Here is a picture of Quinn Quigley (2nd Year) & his brother Kadin (1st year) with Quinn's godmother Jennifer Hile (CLH alumni from Ranch). This was over Christmas break when they went to visit Jennifer in Austin and went to a UT basketball game.

Emma Price with her Dallas CLH friend for life, Mary Kate Henson.....skiing together in Red River, NM! ATTAWAYTOGO!
Both Brock and Kristin McLeod are CLH camper 1st term. They spent Christmas in New Zealand visiting family and vacationing. Both kids told their kiwi aunts, uncles, and cousins all about CLH! Here they are on Pauauni Beach, New Zealand (located on the North Island).
The Magruder's and Browns got together for a CLH reunion this Sunday at Joe T's in Fort Worth. Megan and Stella(front row) are going into their 5th year at camp! They've been in the same cabin since Wren year! Sophie is going to be a COUNSELOR next year wow!(top right corner). Katherine is going to be a chief an be going into her 9th year at camp! Finally Heather and Shea (middle) Heather went to camp for 13 years and Shea went to camp for 6 years.
First term campers LIZZIE HALL and LIBBY LESTER snapped a quick photo on top of Crested Butte Mountain over the Christmas Holidays. Attawaytoski!

C3 Director TYLER ROBERTSON took HUDSON BENNETT, a second term Inks camper and Tyler's nephew out for a day of fishing In Rockport. Looks like he had a good day!
Taking a cruise to the USVI and BVI islands over Thanksgiving break are the Portela brothers, JOSE and JAKE. Randomly the boys both had on CLH shirts after they snorkeled caves and lunched on Norman Island.
HAYDEN BROWN, 4th term camper from Burnet. Not only loyal to UT... but loves CLH as well!
Charles Brewer, Inks 2nd term and his Sister, Natalie Anne (new Camper 2017) and their Family recently went on a mission trip to Costa Rica, to help build housing. Charles started writing a Journal on his experience. On the plane back, he left the journal on a plane, and Southwest Airlines located and returned it to him! Waytogo Southwest!
Farr's all boys school does a prayer service and lines the fences to honor our Veterans.
Tex! Done by Farr Dickson, 4th term camper from Houston
When Second term camper CHARLES BREWER went down with his Uncle for the first Texas game this year he met up with BESS, a friend he made at camp.
Westlake High School celebrates Homecoming in Austin. Camp Longhorn campers got together for a group shot! Attawaytogo!
Left to right: Carter Bost (1st term Inks Lake), Drew Willoughby (1st term Inks Lake), Haley Cole (1st term Indian Springs), Avery Fredrickson
(3rd term C3 on Inks Lake), Emily Marquis (1st term Indian Springs), Brennan Haralson (1st term Inks Lake), Riley Saikin (1st term Inks Lake),
Christan Haralson (1st term Inks Lake), Presley Bennet (3rd term C3 on Inks Lake), Hanna Norwood (1st term Inks Lake), Dylan Spencer (1st term Inks Lake), Avery Platt (1st term Indian Springs), Kay Lee Jenkins (3rd term Inks Lake), Alexa Levine (1st term Indian Springs), Jaclyn Cockrell (1st term Indian Springs)
A weekend in October the girls had an impromptu reunion as Genevieve was in town from Shreveport. Best friends since 1st term Wren year 2013!! (Lilly Price, Genevieve Carmody, Ella Rose)
Attawaytogo! Attawaytodab!!
CLH represented in the Oatmeal Festival "Run for Your Oats" 5k run. Mixture of C3, Springs and Inks.
Left to Right (top row): Dillon Crain (C3 counselor), Mary Patt Everest (Inks Mailroom Director), Hudson Bennett (Inks camper), Luke Kiser (C3 camper), Gracyn Bennett (Inks camper), Cade Rye (Inks camper).
Left to right (bottom row): David Bennett (C3 Director), Ryan Robertson (past Springs camper), and Zaida Freeman--not pictured (Springs camper).
HOME by Carly Kirkland, 2nd term Counselor
"Do you not miss home, even a little bit?"
This question arises every year as I pack up my red, sticker-covered trunk, in preparation to go to my favorite place in the world: Camp Longhorn. Explaining to everyone what camp is sounds easy, until you figure out that you can't actually explain it at all. I've always struggled with defining camp and putting it into one category. I can't say that I'm going to church camp, because we don't do bible studies or go to worship every day, even though we say the Lord's prayer at night and go to church on Sundays. I also can't coin it as a sports camp, because you don't go to camp to refine your tennis, soccer, or basketball skills.
If I had time to not just explain it in a nutshell, but REALLY explain it to everyone (that would take a good hour), I would say that Camp Longhorn is best described by a multitude of little, seemingly insignificant things. It's eating Barney's infamous bacon off of dull metal trays that look like they belong in a prison rather than a summer camp. It's saying "yes ma'am" and "yes sir," and not slamming the screen doors. It's being quiet on the way to campfire and not allowing the water to shoot in the air as you drink from Old Faceful. It's the only place in the world where doing all of these things earns little pieces of orange plastic (merits) that can be cashed in for a wide variety of things at the merit store. It's the never ending play on words (hence the sailboats with names like TUMP 2016 and KNOT 4 SAIL). It's cabins that float on water and walking up to Church Mountain every Sunday. It's dance parties and singing "Day is done, gone the sun…" after every campfire. It's a place characterized by positivity, one where the Dam is called the Darn, "everybody is somebody," and "it's not hot, it's summertime!" I could go on and on, but Camp Longhorn can be most simply described by one word: tradition.
When I turned 7, my mom immediately put me on the waiting list to go to camp. I owe her for that one, big time. She had gone throughout her childhood, and was a counselor there for many years after. I had just completed the second grade, and had no idea what I was getting myself into. Meanwhile, my dad was skeptical, wondering why it was necessary to send his daughter to a summer camp in the Texas hill country for a long three weeks. But looking back, there was no way I could have ever imagined the magnitude of the joy the next twelve summers would bring me.
I drank the Camp Longhorn kool-aid that summer, and it's safe to say that I drank it for life. Something about no A/C or electricity in the dead of summer and living with twelve other girls in a cabin with screen windows and doors proved to be incredibly appealing. On Visitor's Day, my parents couldn't find me when it was time to leave. I was sitting in the grass, overlooking the lake, crying. I couldn't stand the thought of waiting 11 long months to go back to that little slice of heaven on Earth. The best gift my parents have ever given me is sending me to camp, there's no question about that.
What makes Camp so great? It's not just the fun activities, the food, or Carnival or Dance night. It isn't the blob, the sailboats, or the lazy river. It's the fact that each summer, I come back to a place and people that have not changed in the least. It feels like stepping into a time capsule, one that has been almost the exact same since I first rolled through those gates at the age of 7. My mom and I were discussing this on the drive back from Burnet yesterday. We had tears in our eyes as we compared our experiences at camp for the umpteenth time, only to find once again that there's not much difference between them at all (except for the forty years that have passed). I can still look up and find her name written in many of the cabins I have slept in. Camp is a bond I share not just with my mom, but my brother as well. Growing up in Duncan (where no one really knew what camp was) I could always count on Coby to appreciate and share my love for camp.
I believe there is incredible value in tradition. Life, changes, and boy does it change fast. We live in a world where there's always something bigger and better to be found. We are constantly pining and working for the next best thing, whether it's the newest iPhone or the better job. This ambitious mindset isn't necessarily bad, but it can also be incredibly exhausting. We are surrounded by a whirlwind of change in the "real" world, but at camp, that change is nearly impossible to find. The cabins are the same ones my mom slept in in 1984, and when she asks, "Do you all still do ____" there's a 95% chance the answer is going to be yes. There's something to be said for that consistency. No matter what happens during the school year, I know I have that safe haven among the hills and dales to go back to. My camp friends and I may not talk much during the year, but the minute we see that Camp Longhorn sign, it's like we never left. We pick right back up where we left off, and I firmly believe that's an element of great friendship. Throughout the years of blobbing, sailing, and swimming, I have met some of my best friends. There's just something about camp's steadfastness that fosters friendships no distance apart will ever break. It's almost impossible to describe, but once you experience it, you will never be the same.
As I've gotten older, I'm beginning to face the fact that there is an eventual end to my time at camp. At some point, I will have to have something on my resume other than "camp counselor." It's something I really don't like to think about, as I can't imagine a summer not spent at camp. In college, I've found that there is a certain pressure to be the best. The world is a competitive place, and sometimes it seems like the only way to survive is to be the one with the best internship or job, returning from summer break with a piece of paper full of accomplishments. I'm not saying this is necessarily a bad thing, but the pressure to do it can be exhausting. Sometimes I feel like I am surrounded by a world that wants me to grow up as fast as I can, not stopping to take the time to look back. When I was in Italy a few weeks prior to camp, we met with the American embassy in Rome. A question asked by one of my classmates was "What is the most important piece of advice you would give college students today?" The politician's answer surprised me. "Invest in experiences, and not necessarily internships."
I realized (bittersweetly) at that moment that you've really only got so much time to be a kid. College is a weird limbo that sticks you right smack dab in between childhood and adulthood. Sometimes I feel so independent, thinking arrogantly and excitedly that I have it all figured out. Other times I really just want to cry and call my mom because I can't figure out how to make the washing machine at the bottom of Adams actually wash my clothes. As my childhood days ebb and adulthood grows closer and closer, I'm realizing that camp is a sort of living memory. It is the one place I can go where I am truly one hundred percent a kid again. I see a reflection of my past there, and it's one full of fond memories that I'll carry with me forever.
No, I may not have the dream internship on my resume. But the experiences I have had at camp have given me invaluable skills that I know will carry me into adulthood. I know how to get along and live with all sorts of people, as you really don't have much of a choice when you're thrown together for three weeks. I know how to I know how to resolve conflict, sail a boat, drive a motorboat, and swim a mile. Camp has prepared me for so much more than I could ever imagine.
To answer that first question, no, I don't miss home. Not a bit. Why? Because Camp Longhorn is, quite simply put, my home away from home. When I see the sign that says "WELCOME TO CAMP LONGHORN" I know that I've got three weeks ahead of me full of childlike goofiness and finding joy in the smallest of things. The real world truly seems nonexistent, and when I leave, I leave with a clear head and heart.
It's the only place I know where the world ends, and paradise begins.
An Essay by Lizzy Childress, third term
Your first thoughts when you drive through the gates of Camp Longhorn is WOW. You see Charlie the longhorn sitting on top of the gate. As you drive towards the actual camp you see all of these funny signs. They say things like rock in' chair. People think that they mean rocking chair, but it is an actual rock in a chair. Your drive about five minutes from the gate until you see the activity climb. It has a rock wall, pamper pole, obstacle course, and so much more! You see people with smiles on their face. You pass Pit Stop and you have the choice to go to boys camp or girls camp; my bus of course goes to girls camp. You pass the Rio Flojo and finally see cabins! You get this rush of energy when you see the cabins. It is very hard to describe it but if you ever experience it, you will know what I'm talking about.
Everyone hops off a bus and a counselor tells them what cabin they are in for the term. Last term I was in the Falcon cabin. All of the girls cabins are named after birds. I always spent time in the Dove cabin because that was where my best camp friends were. You have a different number of counselors depending on your age. The little kids had four counselors, the middle-aged kids have three or four, and the oldest kids have two. You have 11 - 13 people in your cabin except for your last year, you have 25 - 30 people.
At Camp Longhorn you do a ton of different activities. Your cabin is assigned activities. There are 10 activities in a day. Some of the activities are swim, sail, soc, scuba, rifle, archery, fun and games, and my favorite blob! The blob is something that the founder of camp invented. His name was Tex. The blob is a huge blue, white, and orange air filled bouncy thing. It started out on land and it moved into water. There is a tower that you jump off of to get on the blob. Kids jump off the tower and try to bounce people off. Blob is most people's favorite activity.
My favorite time of the day is chow time! We have the best cook at camp, his name is Barney. No he isn't a big purple dinosaur! He cooks breakfast, lunch, and dinner for all of the kids, counselors, and staff. My favorite meal he cooks is either spaghetti or pizza. The spaghetti is so good that people go back for seconds, thirds, and sometimes fourths! At chow we always sing Johnny Appleseed for our prayer. You sit with your cabin and it is a very fun bonding time!
Camp not only is fun, but it teaches you discipline. We have this thing called the merit system. A merit is an orange circle disk about the size of a quarter. If you do something good like saying yes ma'm or no ma'm, you might get a merit. Not only can you earn merits, but you can get demerits. You get a demerit if you slam the door or if you are mean. You can either save or spend your merits. There is a place called the Merit Store where they have a bunch of knick-knacks, t-shirts, blankets, and so much more!
Camp Longhorn is heaven on earth. I have made friends there that I will have for the rest of my life. I will go back every year as a camper and then I will be a counselor. Camp is a place where you aren't judged and everyone loves you! I am so blessed to be able to call Camp Longhorn my home away from home. Camp longhorn is where the world ends and paradise begins!